At FCC we honor our past,
Dr. Milton West
Dr. West began his duties as Senior Minister on July 1, 2019.
He received a Bachelor of Music Education and Master of Arts in Education, Educational Psychology degrees from Murray State University. He later did additional graduate work in clinical psychology and school administration at MSU. In 1995 he received his Doctor of Education Degree in Leadership and Policy Studies, Educational Administration and Supervision from the University of Memphis.  Dr. West is a psychologist with extensive experience in university and public school settings.
He was ordained in 1978 and he has served as a minister in Kentucky churches in Dawson Springs, Wickliffe, Bardwell, and Fulton. He has also held ministerial positions in Tennessee, Alabama and Georgia.
Dr. West and his wife, Paula, are parents of two sons.  They have one grandchild.
Stephen L. Clark
Steve received his degree from Murray State University / Music Education, with Major in Voice, Minor in Organ and Piano. He has served various churches in Western Kentucky as organist/pianist/music director and has taught private music in the area for several years. In the past he has sung with the Paducah Symphony Chorus and the Paducah Community Chorus and has also attended several ADM (Association of Disciple Musicians) music weeks for a time of training and working with other church musicians from across the USA. Steve has two adult children living in the Lexington area. When not making music, Steve enjoys touring old homes, collecting antiques, walking the dog, and taking care of a very beautiful yard.
Steve has served as the organist/choir director at First Christian Church for 21 years.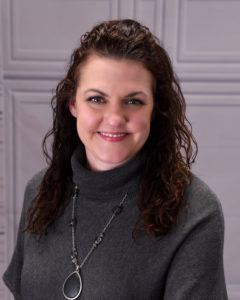 Laura McClendon, Director of Christian Education
Laura serves as our Director of Christian Education. In this part-time position, she will be responsible for children, youth and young adult programming and will provide support for small group ministries.
Laura grew up attending FCC and is a graduate of Mayfield High School. She earned a bachelor of arts degree in business administration from Transylvania University and a master's in business administration from the University of Louisville. Laura is a teacher/tutor providing educational services for students needing academic support in the Mayfield City School system.  
Laura joined the staff at FCC on January 20, 2020.  She brings a passion for teaching and learning for persons of all ages with an emphasis on children and youth.